Just wanted to let everyone know that my primary blog home is now on
BridalBuds
, where I blog as
Plumeria Bud
. I'll still be posting here from time to time, but if you want more frequent updates, put it in your
feed reader
.
Current Mood:

cheerful
Alchemy
route-- I finally bit the bullet and bought these: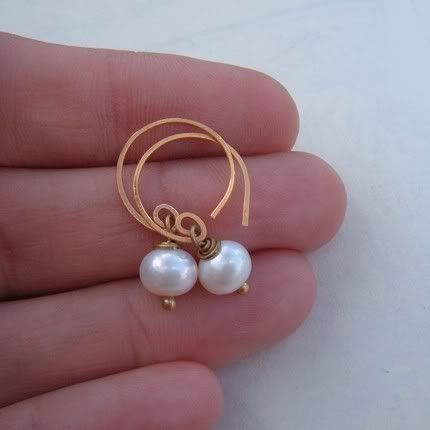 From seller
Lisix26
They are tiny and delicate and I don't think they will compete with the
necklace
. I still love the pearl and peridot ones-- heck, I love hundreds of earrings that I've browsed through so far. We'll see. I've already sent back one pair of shoes and a reception dress. Yay, I'm an indecisive bride!
After sifting through a jillion lovely Etsy listings-- and briefly considering going the
Current Mood:

optimistic
(
Read more...
Collapse
)
And here is my dress:
I am not going to wear tulle around my neck though! At the hip I will wear a fabric flower-- not the feather, ribbon and brooch combo.
What earrings do you think would work best and not compete with the necklace? At first I thought about pearl studs, but I'm not fond of how they look on my ears. I could do a simple drop earring like these from
Perfect Details
:
I've also seen some lovely pearl and peridot earrings on Etsy like these from seller
heatherberry
:
What do y'all think? Obviously since the necklace is vintage, there's no way to get a perfect match and I'm not into matchy-matchy jewelry sets anyhow. I would like something I could wear again, and though I'm more likely to wear silver than gold, I'm sure I could find some use for pearl earrings down the line.
xposted
I have this gorgeous heirloom necklace to wear on my wedding day. On me it's a little longer than a choker.
this
on his own blog.
Tim's really great wedding ideas that are totally sweet!

Part 1: The Proposal

The proposal is probably the most important thing you will ever do in your sad, empty shell of a life. That said, you do not want to over think it. You risk raising the bar much to high. If you get your potential sweetheart's expectations too high, you're going to burn yourself out after a few years of marriage. Remember, marriage is forever or until one of you dies. If you are both immortal, you may just want to consider living together for awhile to make sure neither of you is overcome with the urge to behead the other and absorb their power in a process known as the quickening.
There's more where that came from.
Because when he sees that I am now a wedding blogger, he posts
Current Mood:

giddy
Stinkerpants Designs
is offering 10 percent off her design fee throughout the month of January. Her stuff is so adorable, I nearly die from the cute.
How can you not love it? The graphic even goes with my journal!
Y'all know how much I love a bargain. And how much I love really cute drawings. So I was excited to see that
I was recently selected to be a wedding blogger for the site BridalBuds, and they've just put up my first post! I'm
Current Mood:

ecstatic
Kelly's Closet
. Way back when I first got engaged and was paging through bridal magazines and scoping out dress lines, it seemed that almost every line I loved was carried there. I wasn't even planning on making an appointment though because I knew most everything was out of my price range. But I had tried on dress after dress at boutique after boutique, and I had yet to find the perfect gown. My mom was in town and she offered to supplement the dress budget. I took her up on the offer and we headed down to Candler Park to check out the Closet.
(
And away we go
Collapse
)
Finally I can reveal the winner of the dress saga! My final stop was at an Atlanta boutique,
Current Mood:

happy
Current Mood:

giddy
Beach wedding hair
by
maggieplans
I'd like to keep my hair curly and wear a flower in it. Whether I have it all the way up or just halfway will likely depend on the weather; if it's uncomfortably hot or windy, I will wear it up. If we get lucky with the weather, I'll wear it partially down. I also haven't decided whether I want to wear fresh flowers or a fun flower in my hair either. I suppose that will be a post for another day!
I'll make sure to get photos of my hair trial and post the results here. Hope everyone has a great Thanksgiving!
I should be packing for my trip to Florida right now, but instead I decided to make a collage of potential wedding hairstyles. It's for a good reason, I promise-- I have a hair trial scheduled for Saturday with a stylist down in Islamorada.
Current Mood:

hopeful