Kelly's Closet
. Way back when I first got engaged and was paging through bridal magazines and scoping out dress lines, it seemed that almost every line I loved was carried there. I wasn't even planning on making an appointment though because I knew most everything was out of my price range. But I had tried on dress after dress at boutique after boutique, and I had yet to find the perfect gown. My mom was in town and she offered to supplement the dress budget. I took her up on the offer and we headed down to Candler Park to check out the Closet.
From the moment I stepped in the salon, the women at the Closet took such good care of me. Kelly herself was my sales associate, and she took my price requirements in stride as she pulled a number of gowns for me to try. She didn't just pick some from the regular racks-- Kelly also pulled some samples from the back room. I must have tried on at least half a dozen gowns that afternoon, from architectural
Junko Yoshioka
frocks to old Hollywood styles by
Amy Kuschel
.
The first one I tried on ended up being the one. I didn't get that teary, heart-swelling feeling like a lot of brides do. In fact, I was pretty tired of trying on dresses, period. But I knew that this gown, the Olivia by Canadian designer
Renella De Fina
, was just right.
I finally got some good photos of me in it the other day when Tim was at work. Apologies for the picture quality-- I'm not the best at self-portraiture.
Full-length
Side view with the flower pin I'm planning to wear with it
Close-up of the bodice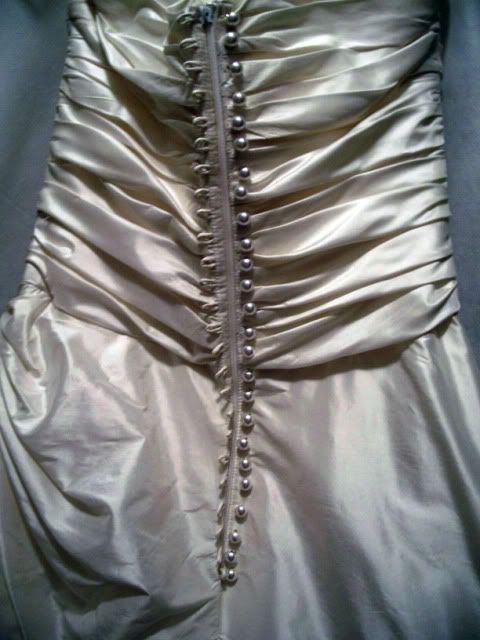 The back of the dress
I was really worried that I would become one of those brides who was never happy with her dress decision. But I never second-guessed this one. The fabric is a lightweight silk taffeta with a lovely hand. The dress is well constructed and has underskirts and crinolines built in. I really like the idea of the fabric flower-- a $4 score from H&M -- at the hip.
As far as alterations go, I'll need a little taken in up top and some hemming. I've considered taking out some of the crinoline and tailoring it so the dress looks more like
this
but I haven't made a firm decision on that. I'll need to find a good seamstress and see what her thoughts are.
Best of all? Since it was a sample, I got it for less than a third of the retail price. Even with alterations and cleaning it'll come in under budget. That made my bargain-loving heart sing!
Finally I can reveal the winner of the dress saga! My final stop was at an Atlanta boutique,
Current Mood:

happy